Advanced Clique: Macros and Dual Spec Profiles
Ok… Clique is pretty self explanatory. Open spellbook. Open Clique. Do your desired click-binding on your spell in your spellbook. Done.
Buuuut… I have 2 advanced lessons for you.
Macros
You're going to need your macros! Trinkets, Nature's Swiftness, Inner Focus, all that junk.
Here's how you do a clique macro.
Step 1: Open clique interface and hit "custom".
Now you do the following (follow along in handy-picture below).
Step 2:
1. Click "run custom macro"
2. Set your click binding (hover over that button and click your desired binding)
3. Write your macro. Just like you'd write any old macro. Except use [target=mouseover] for the heal part. For some reason, I've had it foul up on me if I don't do that, even though the "mouseover" part is implied in the normal clique keybindings.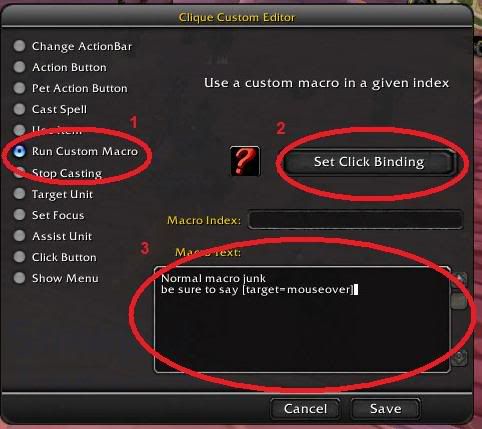 Step 3: Profit
Profiles
Do you want to have different click bindings when you're in different specs? No problem!
Go into your Clique interface and click Profile. Your Profiles window should pop up. The default for each toon will be "Charactername – Servername." (You can switch to whatever character profile you wish, at any time, from any toon).
Then click "New" and name the newly-created profile whatever you want. Switch to the new profile. At this point, you will have a blank clique panel and you will input all the commands/macros/etc for that profile. Just like when you were setting them up the first time on your character.
Woot. Now you have two profiles for the same toon. Here's the fun part!
Go to "Options" and you will be able to use the drop-down menus to set a profile for each of your specs. It will automagically change profiles for you now when you change specs!
Obviously, the next step is profit!