Giving all hunters a bad name
I was strategically going through the options of droodfocus to create screenies for my eventual guide, including opening each and every menu and then picking a fight with the target dummy to get "action shots" of the individual features… for you, my beloved readers.
And then I get a tell from a lovely gentleman who plays a hunter. For the sake of this story, we shall call him "Assface."

And I look up and I see THIS! (And of course I screenied it because my finger was hovering over the screenie button anyway, due to blog work.)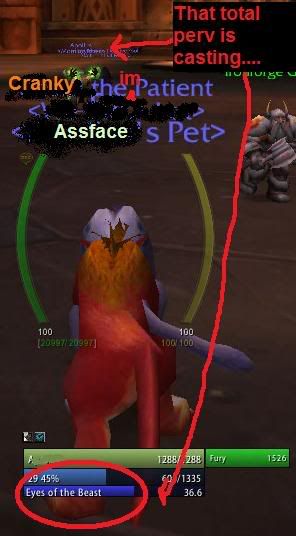 The horror. He's using eyes of the beast to strategically position his pet in "hump range." I don't even want to speculate why he feels compelled to do this.
I went back to the target dummy and he continued the dialogue:

Why do people like this even exist? Not only was he immature, and possibly getting some sort of deviant amusement, but he was obviously stupid as well, since he didn't get that I was mocking his sexual prowess.